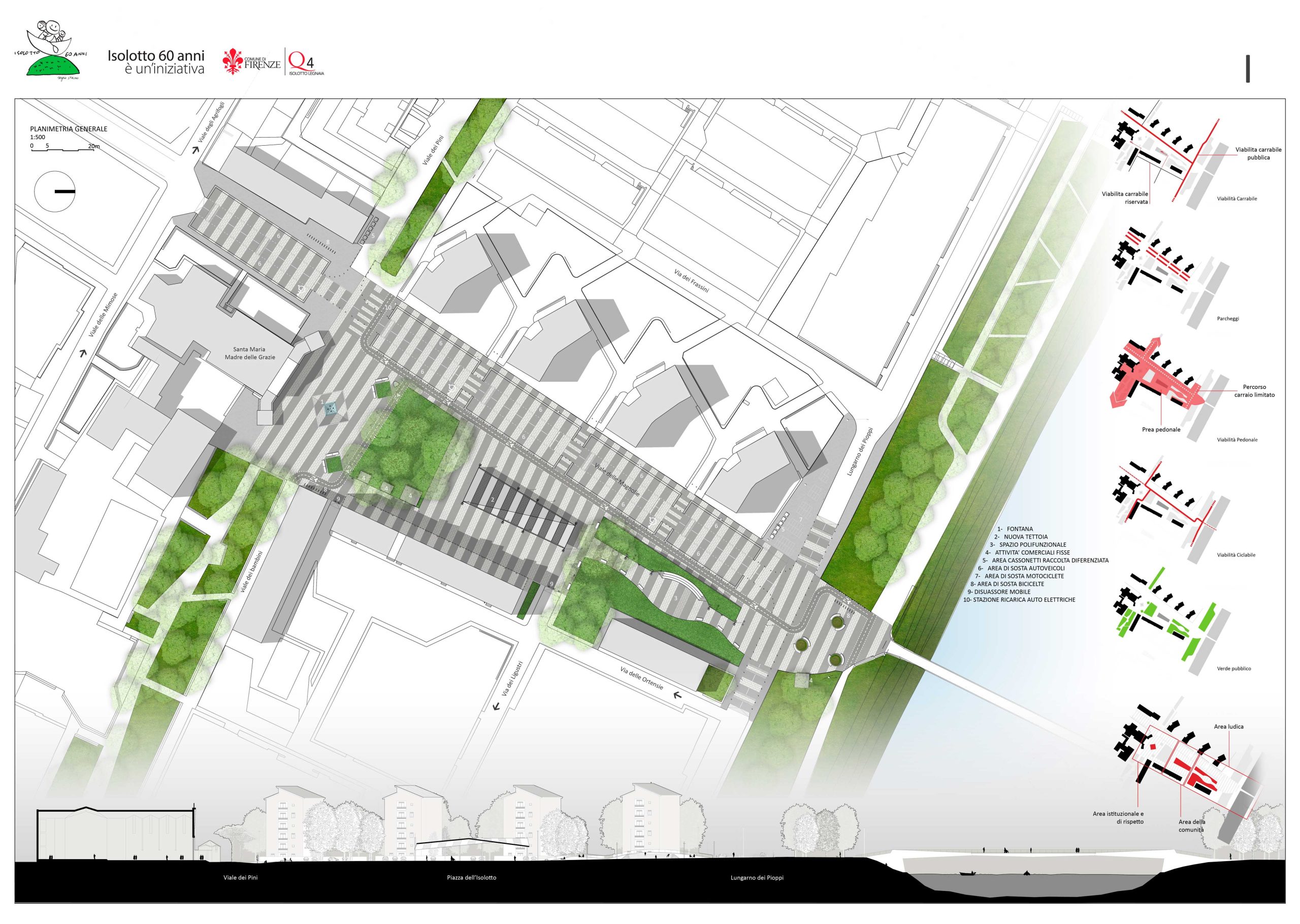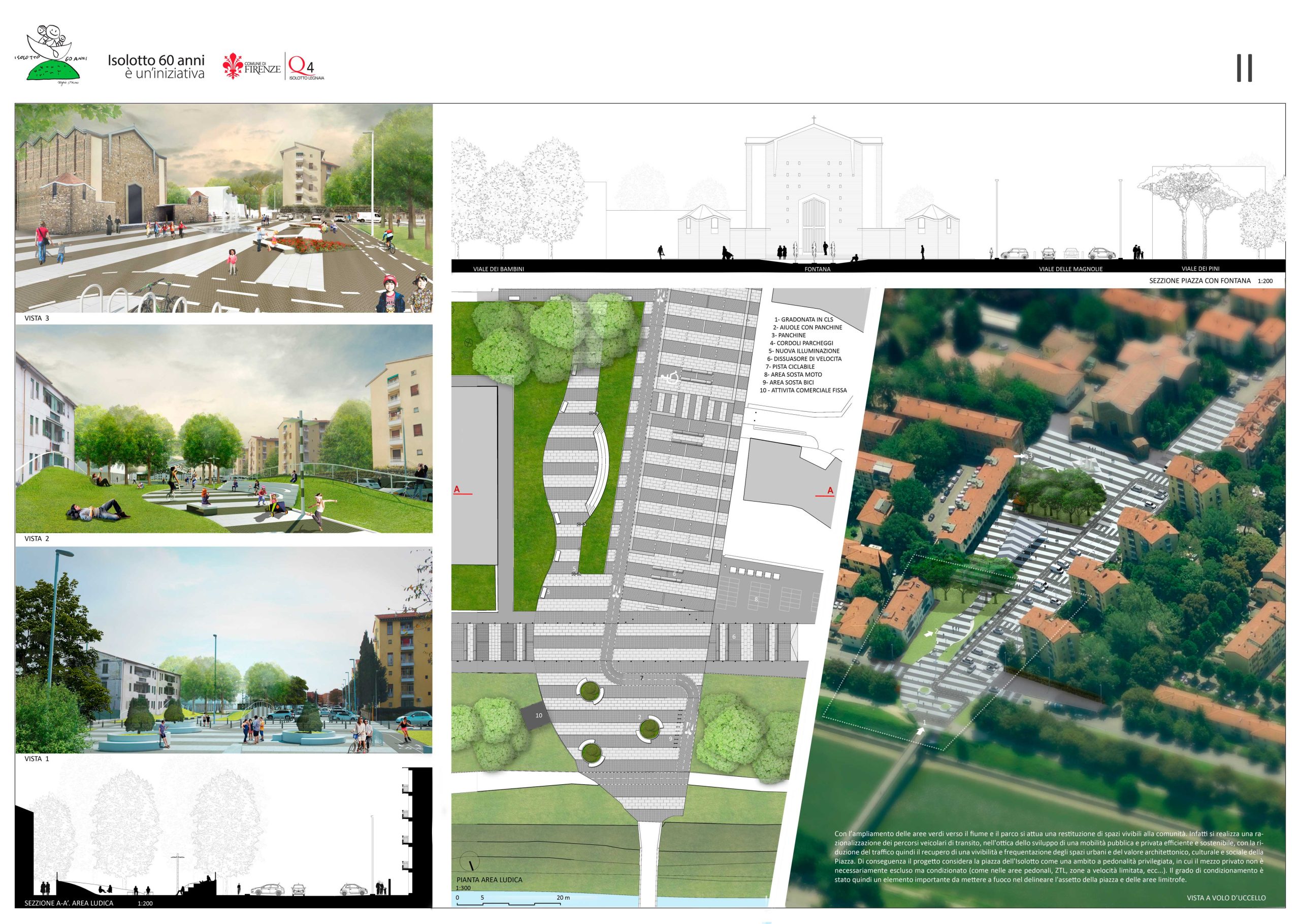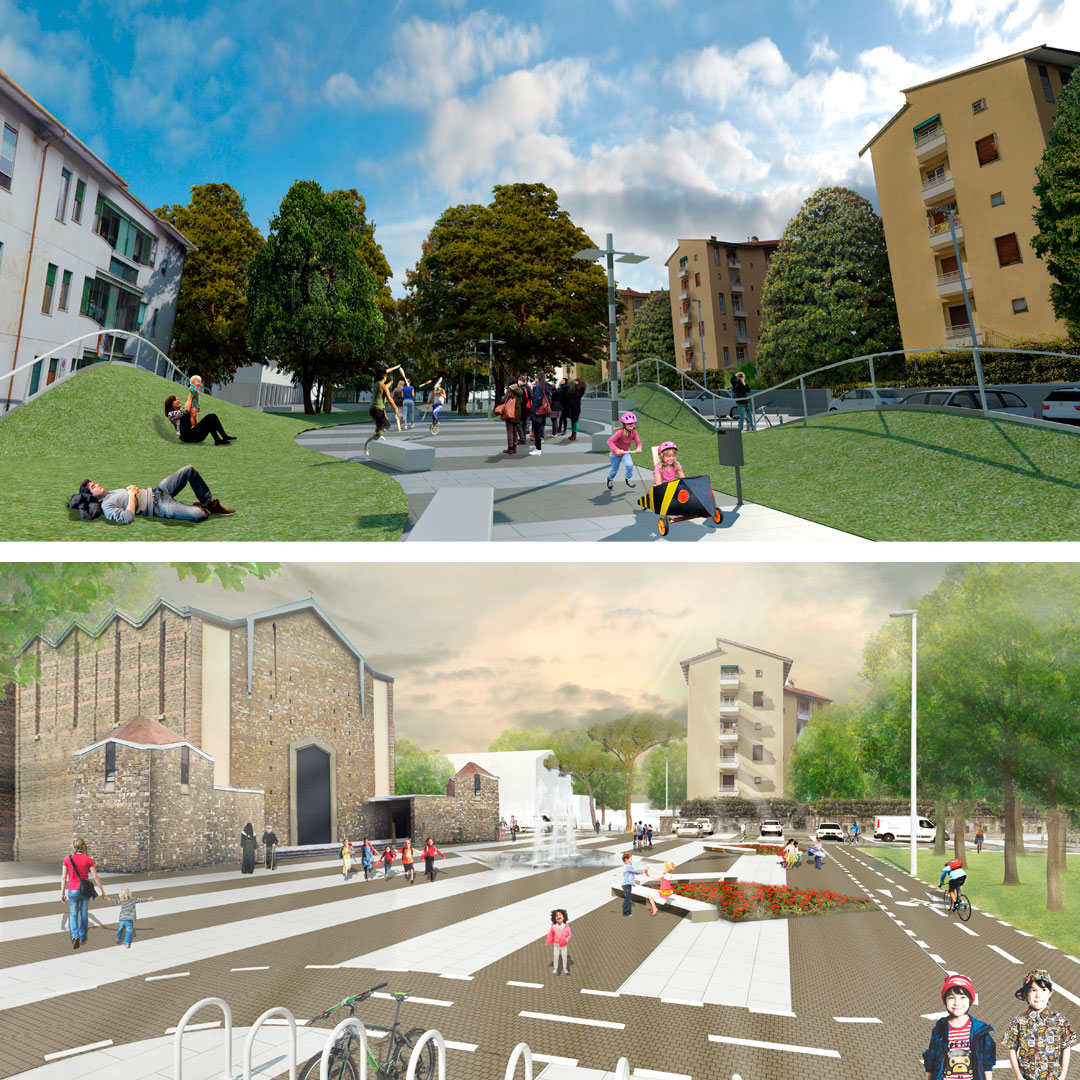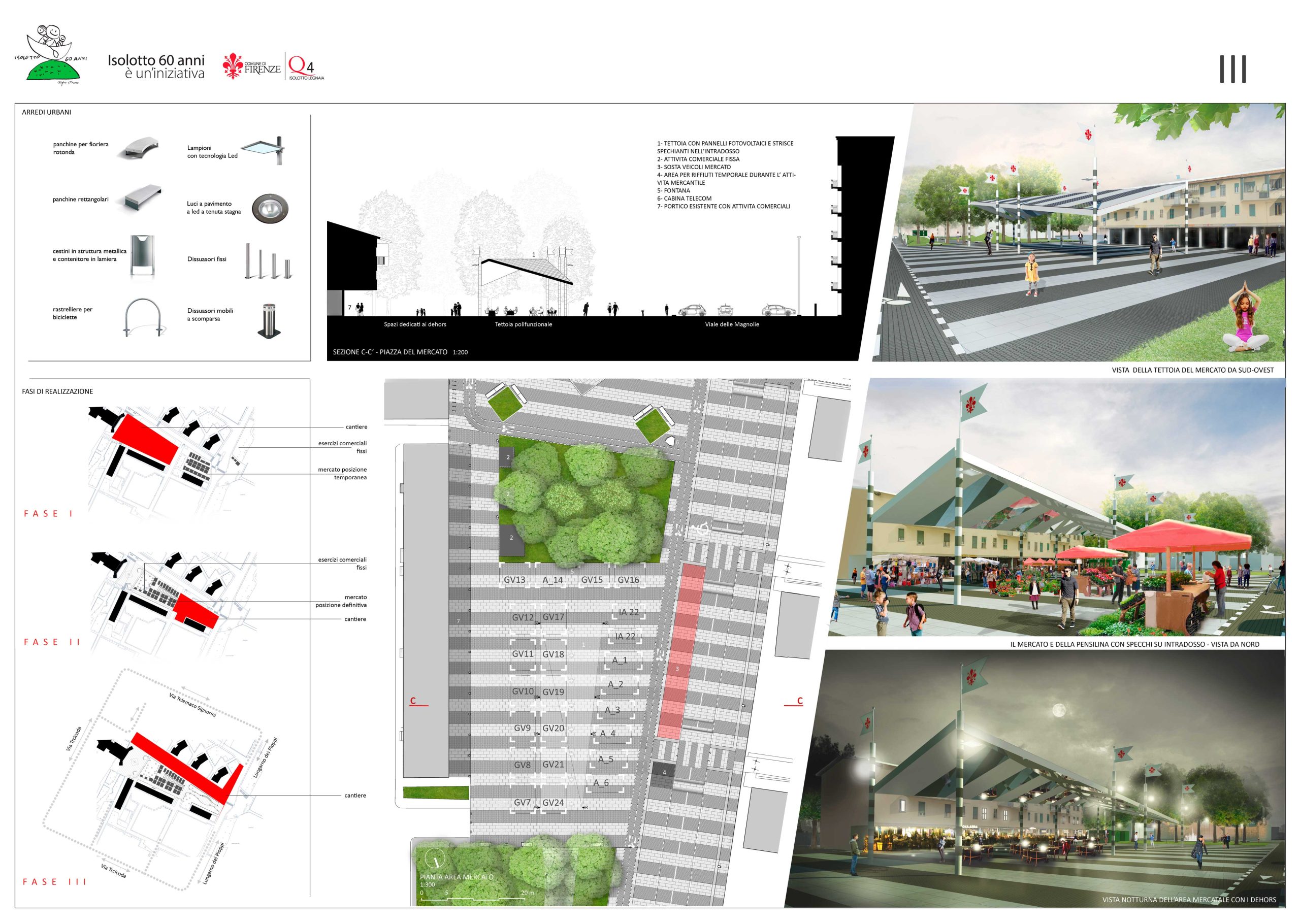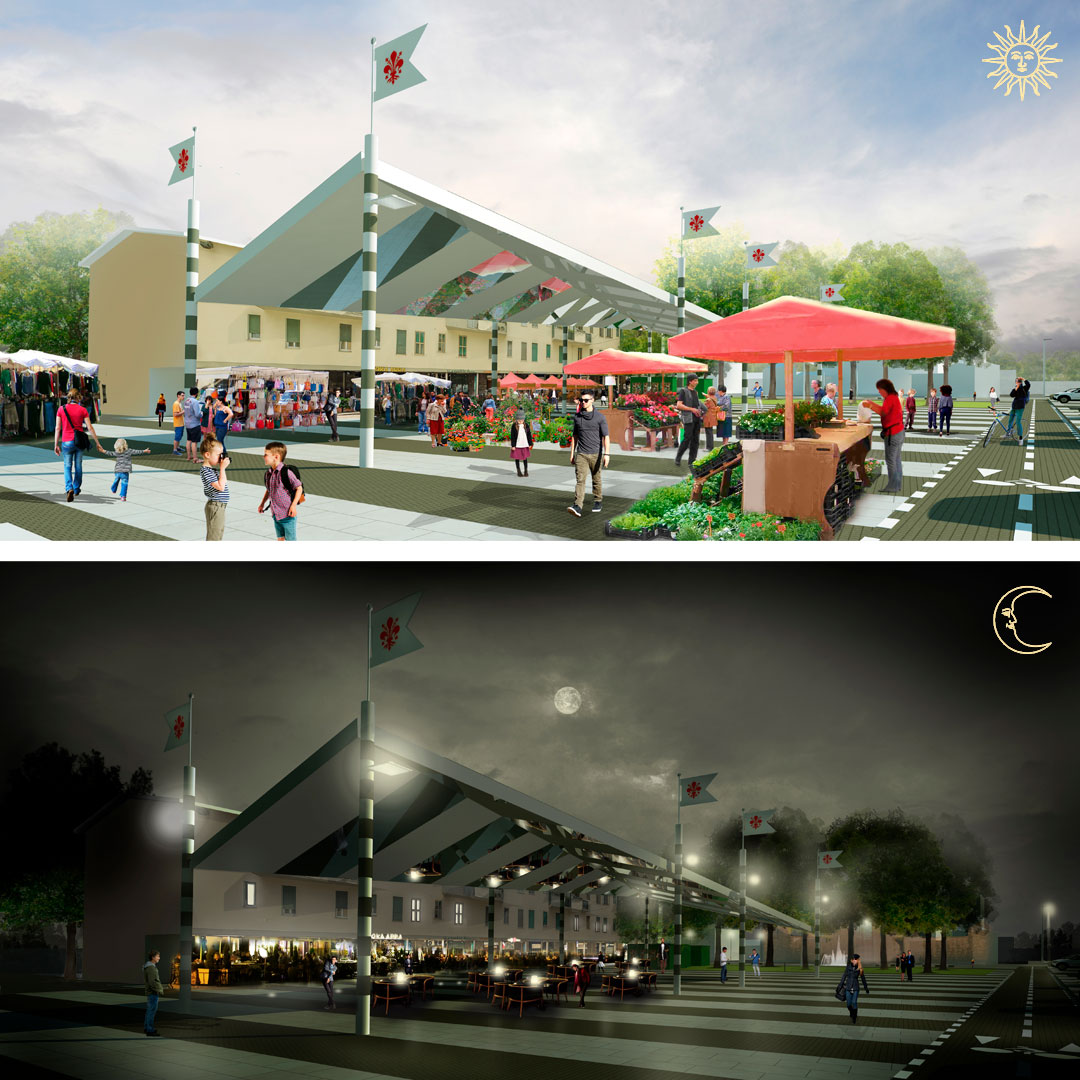 PIAZZA DELL'ISOLOTTO
RIQUALIFICAZIONE AREA URBANA, FIRENZE
2015 – concorso
L'obiettivo principale del progetto è la definizione di un "sistema piazza" in grado di risolvere e conciliare verso un unico codice formale, le varie funzioni attraverso le quali il Quartiere vive la piazza dell'Isolotto.
Il valore ispiratore del progetto è di creare una piazza a misura della persona, costruendo uno spazio unicum che rappresenti il senso del valore della collettività.
L'insieme delle scelte progettuali rispecchiano la volontà di ampliamento delle aree verdi verso l'Arno e il parco, restituendo spazi vivibili alla comunità.  In questa ottica di sviluppo si prevede una razionalizzazione dei percorsi veicolari di transito, nell'ottica dello sviluppo di una mobilità pubblica e privata efficiente e sostenibile, con la riduzione del traffico e quindi il recupero della vivibilità e del valore architettonico, culturale e sociale della Piazza.
The main objective of the project is the definition of a "square system" to resolve and reconcile the various functions through which the neighborhood lives the square of the Isolotto in a single formal code. The ispiring value of the project is the creation of a square for the human misure, to build a unique space that represents the sense of the community value.
The set of design choices reflect the desire to expand the green areas towards the Arno and the park to restore livable spaces for the community. From this development  perspective, the project rationates the vehicles transit , to develop efficient and sustainable public and private mobility with the reduction of traffic and the recovery of liveability and the architectural, cultural and social value of the square.