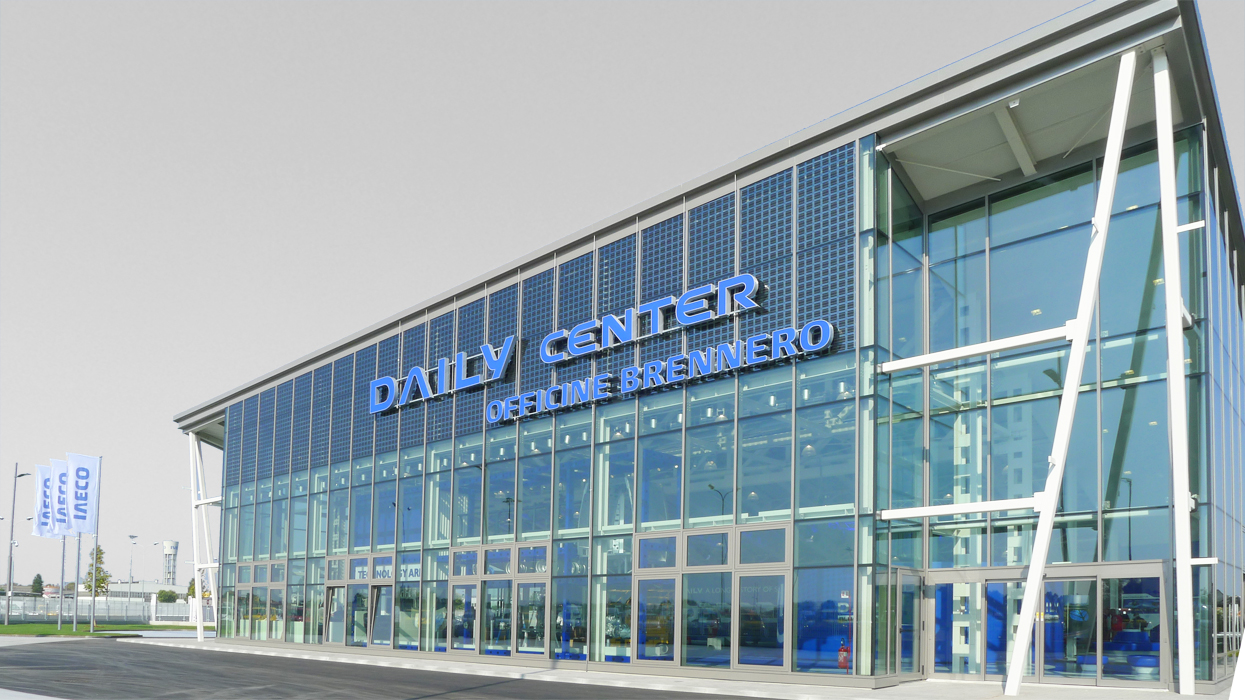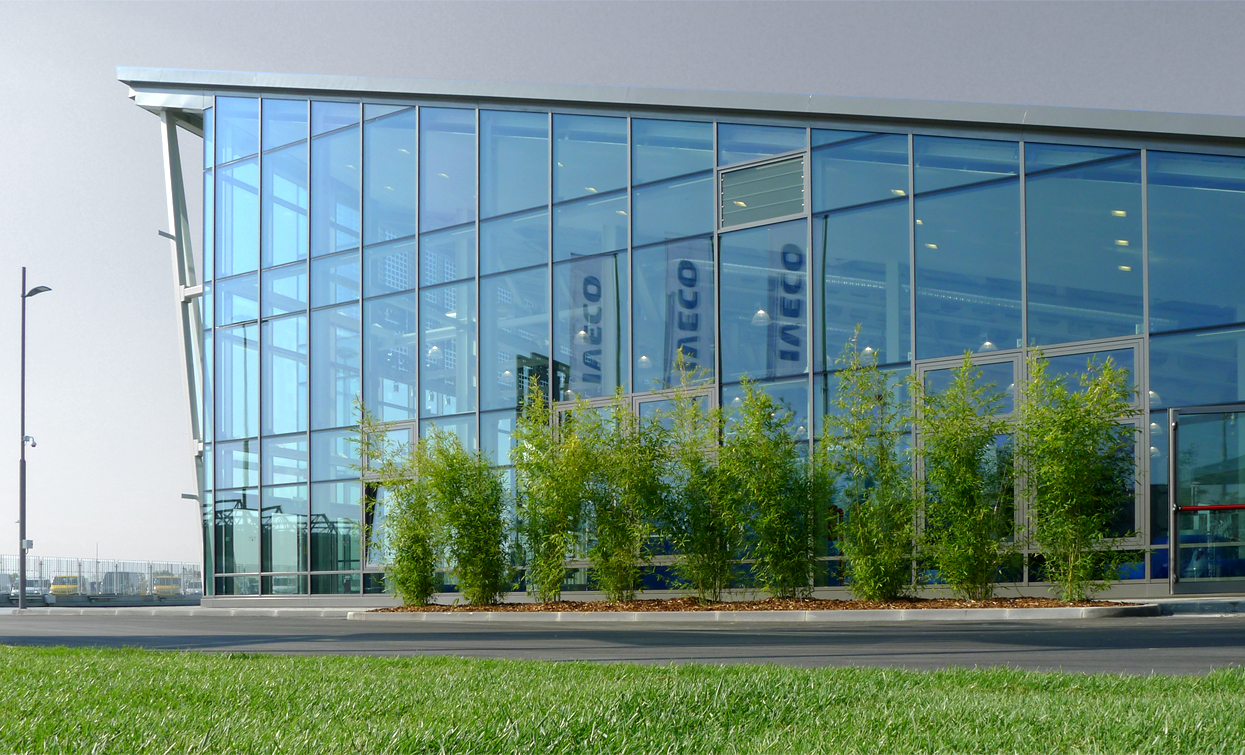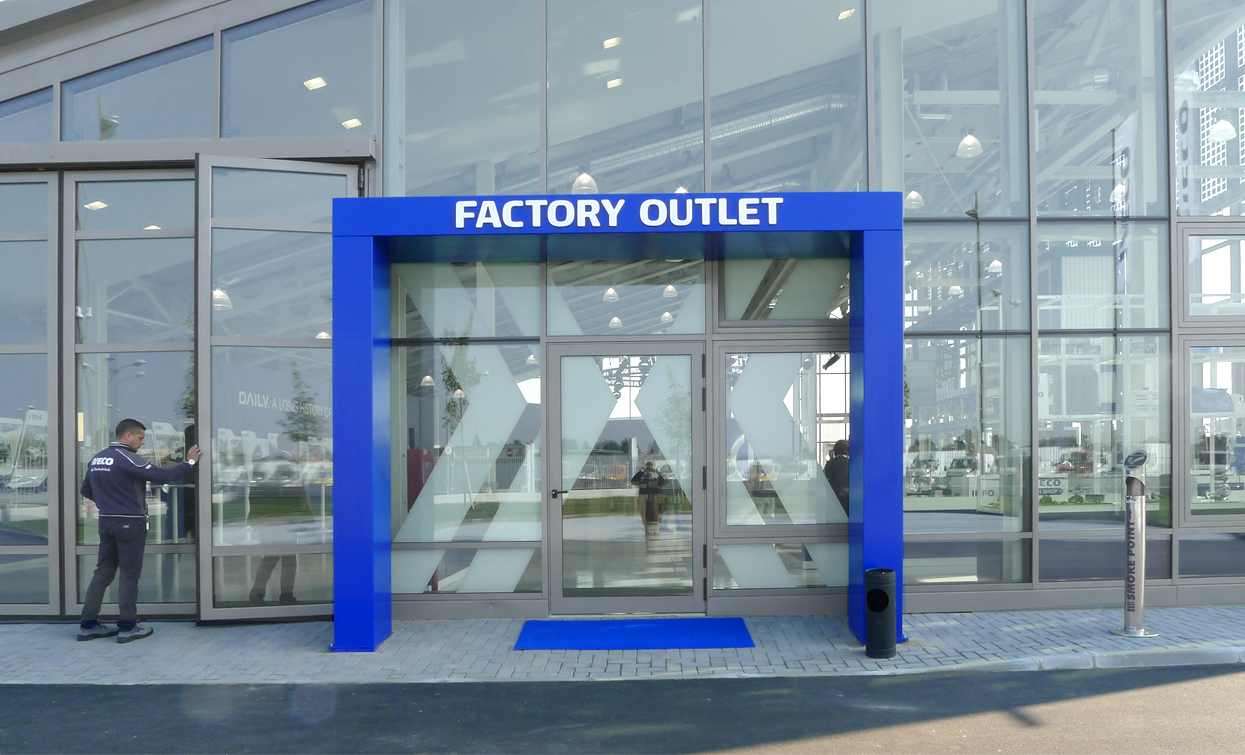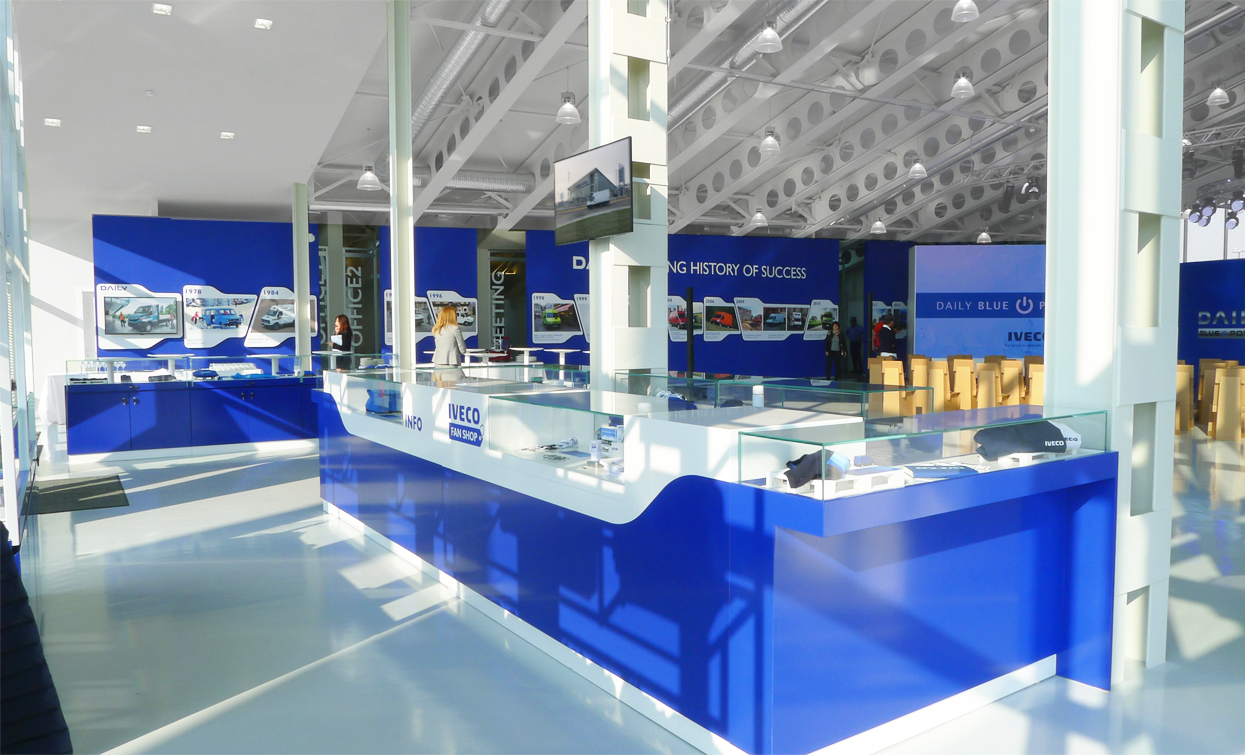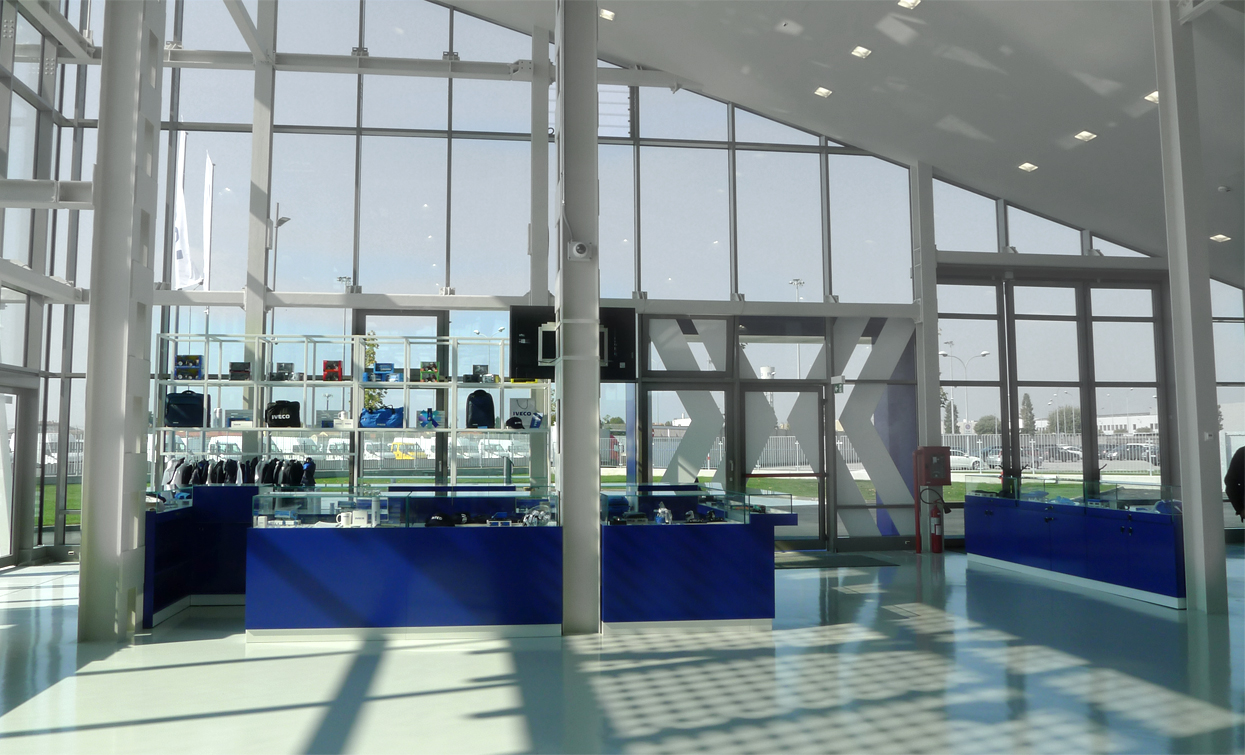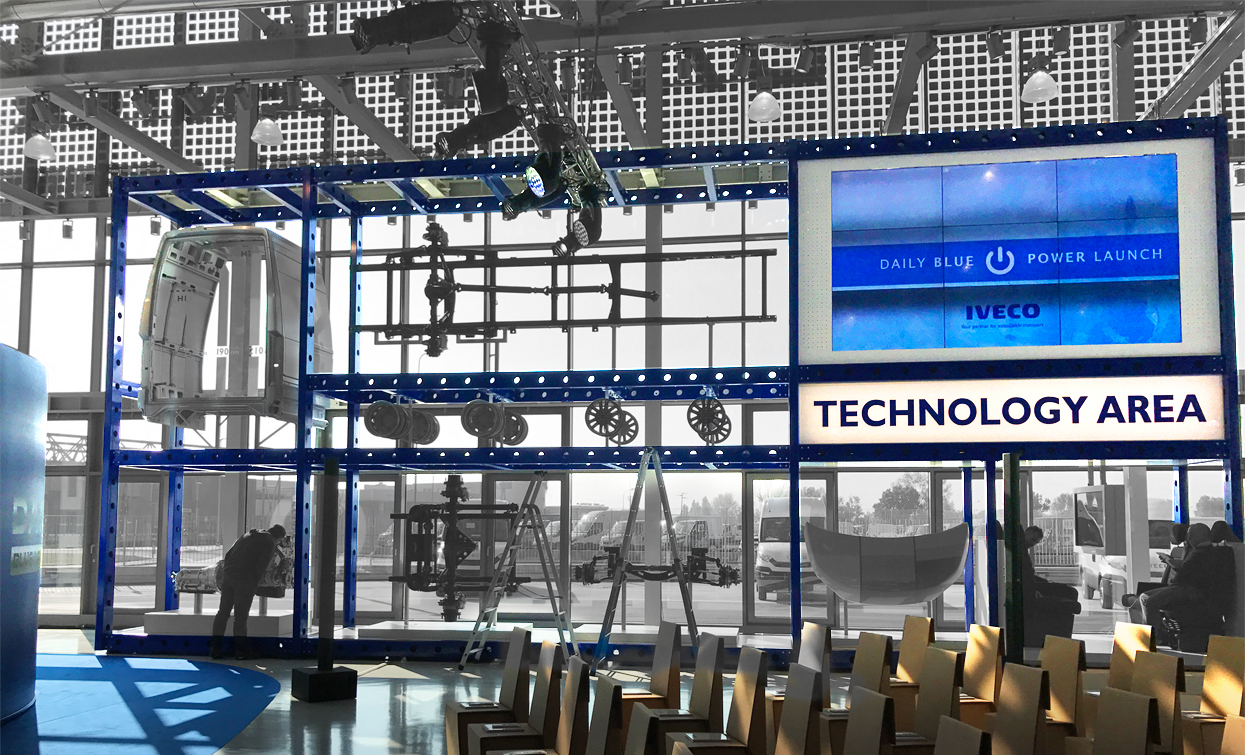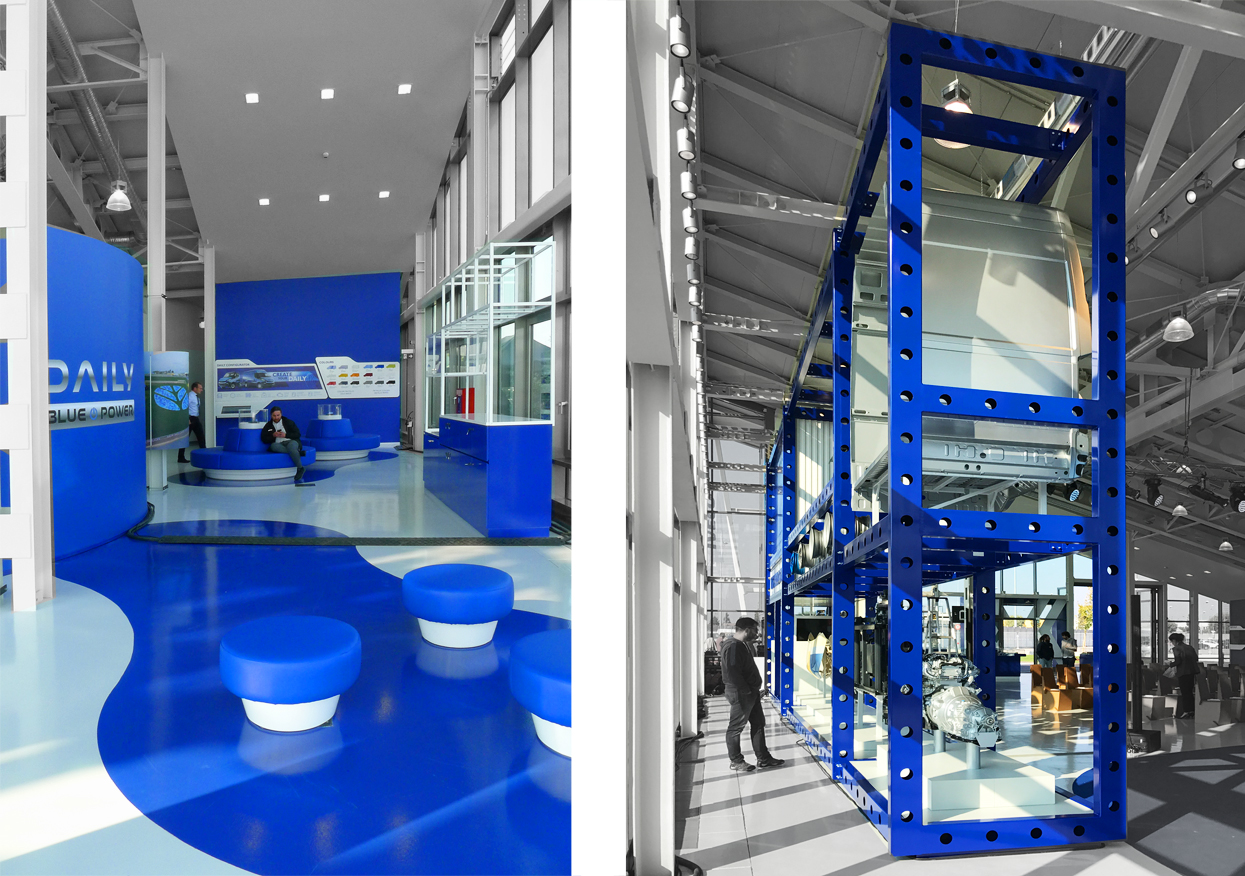 REUSE AND ADAPTATION OF EXPO 2015 NEW HOLLAND PAVILION FOR A DAILY CENTER– IVECO
2017 – Suzzara
A seguito dell'EXPO Milano 2015 il gruppo CNHi decide di destinare il suo padiglione, costruito espressamente per la manifestazione, a Showroom per i veicoli leggeri di IVECO.
La sfida del progetto consiste in adattare un edificio pensato per un uso temporaneo e con una volumetria a forma di cuneo a un nuovo uso permanente, con la difficolta di massimizzare lo spazio agibile e di facilitare un costo di manutenzione ragionevole nel tempo.
La disposizione del building rivolge il grosso prospetto vetrato verso la strada principale con un area espositiva esterna di fronte.
L'allestimento interno è diviso in aree funzionali: accoglienza, area espositiva, quinta di comunicazione storica, area configurazione prodotto e RACK TECNOLOGICO.  Questo ultimo caratterizza l'interno con una struttura espositiva interattiva che espone su più piani tutta la tecnologia del prodotto. Il RACK posizionato in vetrina diventa un richiamo a scala urbana dall'esterno.
After the 2015 Milan EXPO, the CNHi group decides to use its pavilion, built specifically for the event, as a Showroom for IVECO light vehicles.
The challenge in this project is to adapt a building designed for temporary use and with a wedge-shaped volume to a new permanent use, with the difficulty of maximizing the usable space and facilitating a reasonable maintenance cost over time.
The layout of the building turns the large glazed facade towards the main road with an external exhibition area in front.
The interior layout is divided into functional areas: reception, exhibition area, historical communication backdrop, product configuration area and TECHNOLOGICAL RACK. This last one characterizes the interior with an interactive display structure that exhibits all the product technology on several floors. The rack positioned closed to the window becomes an appeal to an urban scale from the outside