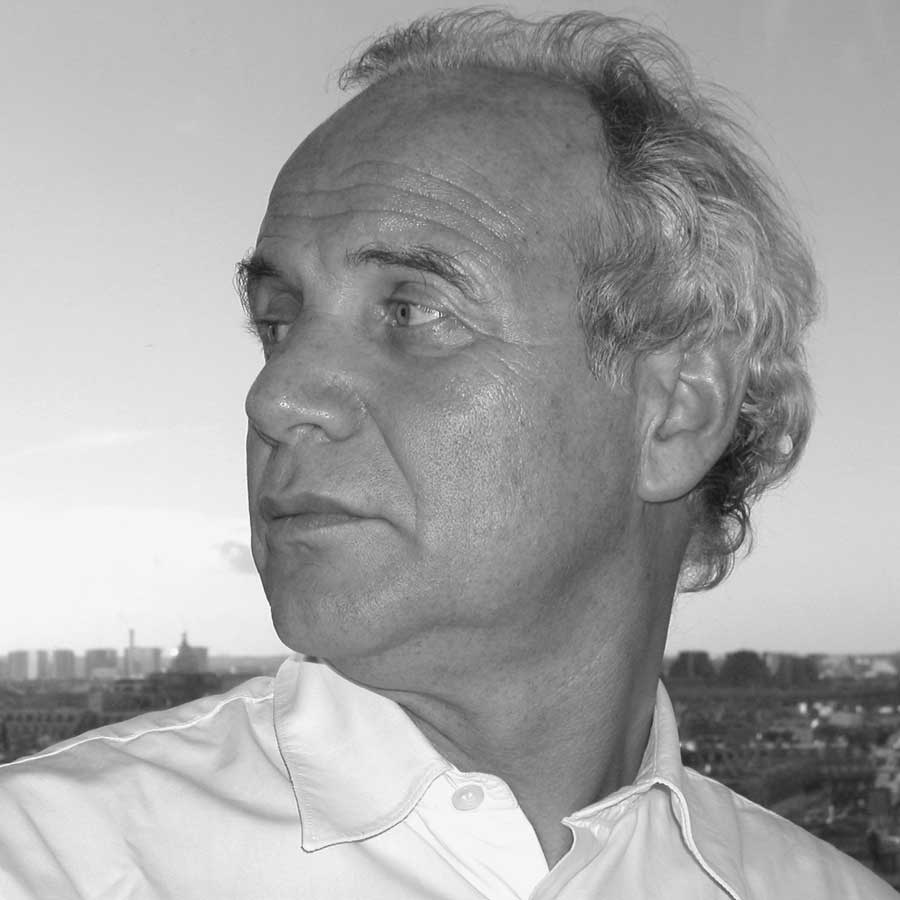 Graduated at the Polytechnic University of Turin, he is registered in the Association of Architects of Turin, the COAM The College of Architects of Madrid and the Architects Order of Paris.
Subject Expert in the Design Workshop and then Contract Professor in 2001 – 02-03 at the Faculty of Architecture of Turin.
Professor at the Master Exhibition at the Bovisa Polytechnic of Milan since 2007.
Registered since 1984 at ADI (Association of Industrial Design).
Co-founder in 2006 of IDEA (Italian Exhibition Design Association).
Founder in 1985 of Carmadesign where different disciplines: architecture, graphics, communication, industrial design and ideas, experiences, visions blend together, enriching themselves and stimulating the exploration of new design responses. The surface designed by the studio for architecture and exhibits, in the last 10 years, is 278,000 square meters.
In 2006 he wrote with Mario Mastropietro the book: "From Dream to Sign, Exhibition Design by Carlo Malerba". LybraImmagine Editions, where he puts his experience into good use in business architecture.
A Summary of thought
Extract from the Adelaide Valle interview.
What does being an architect mean nowadays? What are the goals to be pursued? These, and other themes emerged in the meeting with the architect.
Carlo Malerba has over time oriented his professional research towards planning for the tertiary, industrial and commercial sectors, in which the client, requires architecture to be also media with strong communication skills, involving continuous research, as compelling as it is difficult and constantly evolving.
"The particular objective of this research, says the professional, is to integrate the communication and the image of the brand, to the complexity of the answers that form a project.  Architecture in recent years, thanks to important works oriented to this assumption, has regained a leading role in the cultural scenario".
He explains more – "our task, starting from the knowledge of the site, the brand and the function, is to define the form and the image of the new building, which is its most effective and contemporary expression, being "zeitgeist". Design contains the stimulating message to "throw-forward" overcoming the many difficulties that populate our tables, Michelangelo said: "And the more it benefits me where it harms me most".
He concludes by saying – "to young people I say that being an architect is the most beautiful of crafts" -.
The main Companies for which he provides design services are: Acentro, ASI Agenzia Spaziale Italiana, Banca Del Sud, Bertazzoni, Capello, Case IH, Case CE, FPT Fiat Power Train, FiatKobelco, Istituto Bancario San Paolo di Torino, Meritor, Piaggio, Steyr, Telecom Italia, Unicar, Veneta Industriali, and several other commercial and production firms.
The brands that he has found most inspiring in terms of design are: Iveco, New Holland which then became CNHi and Telecom Italia.